Grit Removal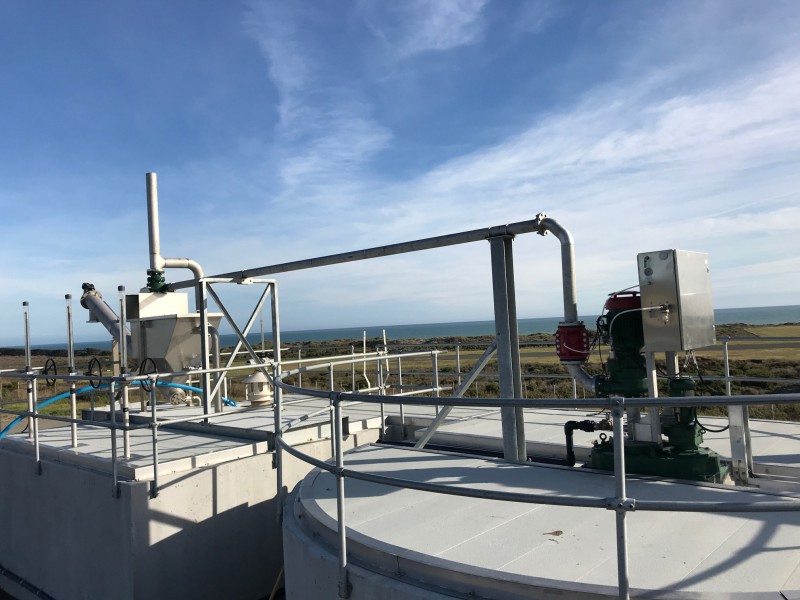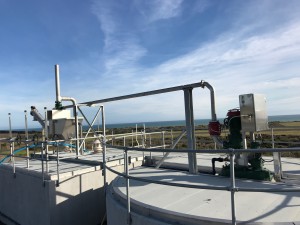 In Australia, we represent Smith & Loveless Inc, which has taken the concept of the PISTA® grit chamber and developed it into the highest efficiency grit removal system in the marketplace.
The latest Smith & Loveless grit removal technologies achieve 95% grit removal efficiency down to 105 microns.
Smith & Loveless PISTA® systems to achieve this industry-leading level of grit removal efficiency include:
PISTA® 360™ which incorporates a V-Force Baffle™ that allows for a full 360 degrees rotation through the inlet and outlet, providing maximum travel of the wastewater for the most effective grit removal before proceeding to downstream treatment processes.
The baffle acts as a "slice weir" to control the water level in the main chamber and in the inlet channel. No additional downstream flow control device is needed to keep the velocity between 0.5 and 1m per second fps at minimum flow with a 10:1 turn down.
2. PISTA® VIO™ (Variable Inlet/Outlet), which provides unprecedented application flexibility and superior grit removal efficiencies with a design that allows for full variability of the inlet and outlet channels, with capacities up to 378,500 CMD (cubic metres / day).
For small flow applications we can supply a Combined Inlet Screen and Grit Removal System in the one prefabricated tank.
CST also supplies a broader range of PISTA® technologies, as well as grit and sand classifiers and grit washing solutions.
Grit Removal – PISTA®
The prevailing method of grit removal globally is the vortex grit chamber – the PISTA® unit. Smith & Loveless research and development engineers have dramatically improved the original PISTA® Grit Chamber design. This has led to several patents on the design by Smith & Loveless, including a flat bottom in the grit removal chamber, an inlet baffle with a coanda ramp and redesigned rotating propeller, all of which work together to enhance flow conditions.
There are close to 2000 PISTA® Systems installed worldwide and Smith & Loveless is the world leader in this technology.
IMPORTANT FEATURES
Smith & Loveless PISTA®Grit Chamber offers both 270 degrees and 360 degrees liquid rotation. The in-line 360 degree flow pattern allows for easier head works installation and even greater grit removal efficiency.
Smith & Loveless PISTA®Grit Chamber is a flat bottom which offers higher grit removal and simpler civil construction.
Headlosses of approximately 6mm across the PISTA®Grit Chamber
Other improvements including mechanical fluidiser, special grit pump and concentrator.
More details see the PISTA® System
For more information, please contact us.
Grit Classifier SC
Description and Working Principle
The SC Grit Classifier is a stand alone unit designed to remove small particulate solids, grit, sand and fines from waste water elevating and de-watering the solids prior to disposal. It is fed either by an air lift pump, pump or pump and cyclone washer/concentrator.
Grit laden water is fed via the flanged inlet of the integral decanting hopper where the solids are allowed to settle out. Special baffle plates and inlet/outlet arrangements can be used to remove any remaining floating matter. The settled solids are removed from the hopper by a low speed conveying screw. Once elevated above the unit's water level, the solids are further de-watered and transferred to a convenient discharge height.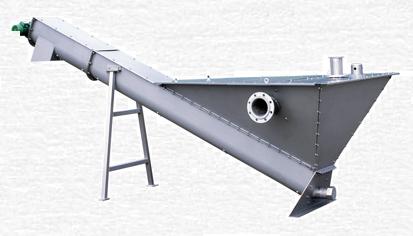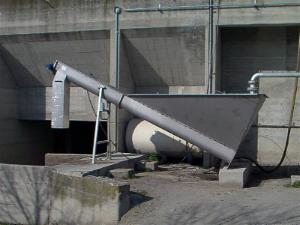 Performance and Technical Features
PERFORMANCE
Liquid throughput
Solids output: 0.08 dm³/s
Efficiency: 90 % separation of sand with grain size as small as 200 micron
APPLICATIONS
– Municipal waste water treatment plants for separation and de-watering grit coming from the sedimentation basin
– Industrial plants in which sand or grit has to be de-watered
WORKING PRINCIPLE
Water to be conditioned passes through the charging inlet P and is let into the decantation hopper, where the sedimentation of solid particles takes place. The low speed of screw rotation allows Sedimentation and discharge at C of dewatered material. Treated water comes out of the discharge spout Q.
CONSTRUCTION DETAILS
Hopper: Made from stainless steel and designed to avoid material blockages.
Flight: Made from heavy duty sections of wear resistant carbon steel.
Trough: Made from stainless steel, lined inside with low friction, wear resistant material. The design of the liner allows for easy replacement.
OPTIONAL EXTRAS
Baffle box

Discharge chute

Additional material removal screw at discharge level

Variable speed drive

Steel support structure

The unit can be manufactured from stainless steel on request
Advantages and Innovative Features
Shaftless spiral 

Absence of bearings 

Low speed 

Low installation cost
Description and Working Principles
The unit can perform both grit classifying and grit washing.
The mixture water, grit and organic enters by a vortex type inlet imposing to the particles a rotating velocity. While entering the settling tank that velocity must deflect.
Due to the volume of the tank the velocity is reducing: the combination of the velocity reduction and deflection allows the sedimentation of the grit while the lighter particles will float.
The settled grit forms a "grit-bed" on the bottom which is washed from a countercurrent flow of water.
The washed grit reaches the feeding pit of the lifting screw conveyor while the organics go out with the water or through a suitable flange.
A low speed rotating shaft with proper arms improve the separation of organic from the grit.
While is lifted up the grit is dewatered before reaches the outlet.
In case of high organic load, air can be injected in the sedimentation tank.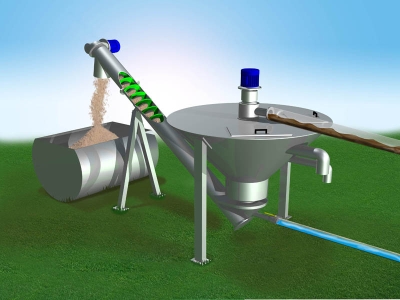 Performance and Technical Features
RANGE AND PERFORMANCE 
Throughput up to 100 m3/h 

Efficiency: 90 % separation of sand with grain size as small as 200 micron (at nominal flow) 

Organic in the Grit: <= 3%.
DESIGN FEATURES 
Hopper: Made from stainless steel and designed: to improve the grit settling and to avoid material blockages 

Shaftless screw made of high tensile carbon steel or stainless steel 

Lifting screw tube: Made from stainless steel, lined inside with stainless steel bars. The design of the unit allows for easy liner replacement
ACCESSORIES 
Discharge chute 

Bagging unit at the grit discharge 

The unit can be manufactured from stainless steel on request

Air blower

APPLICATIONS 
Municipal waste water treatment plants for separation, washing and de-watering grit coming from the grit removal processes 

Industrial plants in which sand or grit has to be separated, washed and de-watered
Advantages and Innovative Features
One only unit to classify and wash the grit 

Washed grit can be landfill or recycled 

Shaftless spiral 

Absence of bearings 

Low speed 

Low installation cost