Vertical Screens
Description and Working Principle
The SFC/V is a slimline combined machine for use in pump stations and pits to 10 meters deep. It consists of a:
•    Screen – perforated plate
•    Conveyor – to elevate the captured solids out of the effluent and de-water by gravity
•    Compactor – to dewater and compress the screenings to give a volume reduction of up to 30%
The SFC/V is usually installed to screen influent in pumping pits for pump protection. It is connected by a flange to the inlet pipe where the influent enters the screen basket.
The screen basket separates the solids and is kept clean by brushes installed on the spiral.
The same spiral lifts the solids up to the compacting zone where they are dewatered prior to discharge.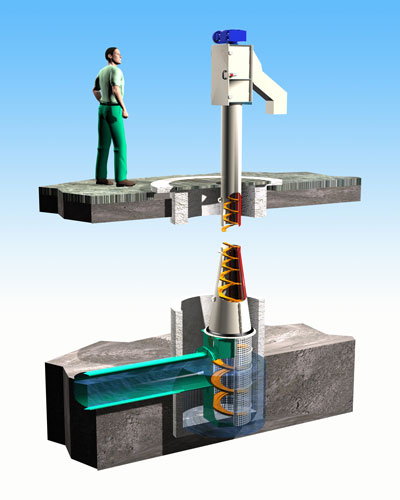 MODELS
•    SFC/V, with compacting. For vertical installation
RANGE & PERFORMANCE
•    Flowrate: up to 450 m3/h
•    Screen mesh size ranging from 3 mm to 7 mm
•    Screen diameter ranging: 300 mm – 500 mm – 700 mm
•    Screenings volume reduction up to 30%
DESIGN & FEATURES
•    Stainless steel housing
•    Shaftless screw made of micro alloy steel or stainless steel
ACCESSORIES
•    Single or continuous bagging unit
•    Full heating system for installation in cold climates.
APPLICATIONS
•    Municipal or industrial: Screening of influent and water supplies in deep channels and pumping stations
Advantages and Innovative Features
No intermediate or end bearings
•    No mechanical parts in contact with waste water
•    Low speed
•    Shaftless spiral, therefore no jamming or blocking even in the presence of rags or any other material
•    Volume reduction of the screenings up to 30% and more depending on the product.