An upgrade featuring CST Wastewater Solutions' high efficiency rotary drum screening at Golden Circle's plant in Brisbane has sharply improved solids capture and reduced solids waste disposal volumes.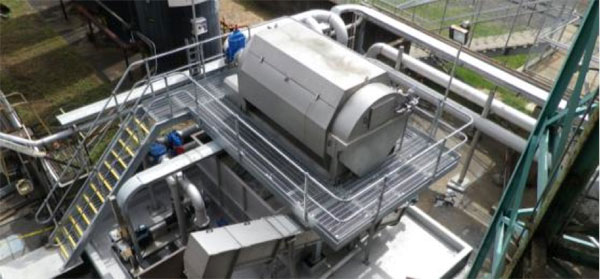 Golden Circle's new CST Wastewater Solutions' high efficiency rotary screen
The new screening technology – to be shown at Foodpro 2014 from June 22-25 – was used by Golden Circle to replace a previous plant with 1.0mm screening capacity. The new installation features a 0.5mm rotary screen, complete with compactor. The complete installation was designed, supplied and installed by CST.
The new installation allows improved and greater removal of solids from the waste water, with considerably better solids capture, says Michael Bambridge, Managing Director of CST Wastewater Solutions.
"The compact new high efficiency system also allowed the removal of a tall existing structure and hoppers, making solids handling more accessible for the plant operator, improving operational efficiency and enhancing OH&S benefits by reducing solids handling. The compaction unit also reduces, by up to half, the volumes of solids to be transported," he said.
Dewatered pineapple at Golden Circle, left, and screen solids featuring all-stainless construction including base frame – and being fully enclosed for OH&S odour and aerosol control – the new design advances rotary drum screen technology while enhancing durability, hygiene and serviceability. Features include:
non-lubricated chains and non-metallic drive sprockets
upgraded running wheel design
no mechanical parts in contact with screened solids
corrosion resistant
designed to handle high fat and grease loadings
self-cleaning
optional wedgewire slots or perforated holes screening
"The new Rotary Drum Screen has a low investment cost, as well as low operational and maintenance costs. Our wide range of in-house experience means we offer custom-designed machines if needed," Mr Bambridge said.
Typical industries to use the Rotary Drum Screen include general food processing (vegetables, fruit, coffee, starch processing), beverages (beer, wine, juice, soft drinks), slaughterhouses and abattoirs, tanneries, pulp and paper mills, textile plants, plastic manufacturers and many more industries. Municipal treatment plants also use the screens for fine screening of raw sewage, pre MBR (membrane bioreactor) screening, and sludge thickening.
"The full stainless screen design is highly versatile, accommodating either slot or hole configurations, depending on the application," said Mr Bambridge.
Versatility
The internally fed rotary drum screen can use wedgewire or perforated hole drums.Wastewater passes into the internal feed tank before overflowing the weir onto the screen face of the drum. Solids are collected on the screen face, while the screened water passes through the screen face under gravity. Collected solids are discharged via the screen drum mouth. The internal feed tank controls inlet velocities and distributes the flow evenly onto the screen face.