Leading exponents of locally and globally successful wastewater-to-energy projects for agribusiness and industry will feature on the CST Wastewater Solutions stand R16 at the FoodPro exhibition in Melbourne from June 22-25.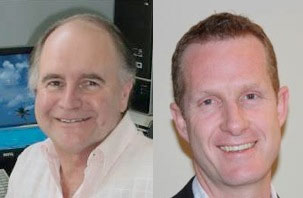 Industry experts, Mr. Michael Bambridge, left and Mr. Craig Morgan, right.
CST Wastewater Solutions Managing Director Mr Mike Bambridge will be complemented by national energy consultant Mr Craig Morgan to showcase the latest wastewater and green energy technologies that not only clean wastewater to top world standards, but also extract biogas to substitute for fossil fuel in boilers and to generate electricity.
The technologies – which can repay the cost of their installation in as little as two years – will be explained by Mr Bambridge and Mr Morgan, each of whom has decades of experience in assisting organisations manage energy, greenhouse gas emissions, and the impacts of climate change.
Mr Morgan will be available to talk through problems and suggest innovative solutions on topics such as:
Low-carbon technologies (renewables, energy efficiency and hybrid systems), particularly waste-to-energy systems
Carbon markets, regulation, programs and mechanisms
Energy management and Greenhouse Gas management plans, verification and auditing
Climate change risk assessment and strategy development
Turnkey contracting for lighting energy efficiency upgrades.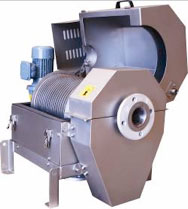 CST has been providing Australasia with a broad range of quality cost-effective water, wastewater and energy solutions for over 25 years. It partners global leaders in their fields, such as Smith and Loveless and also the Global Water Engineering group of companies, which specialises in industrial wastewater solutions and renewable energy solutions
Complementing Craig Morgan's energy expertise, Mike Bambridge will be available to discuss his company's extensive range of wastewater technologies, including the Rotary Drum Screen pictured right, pretreatment, grit removal and anaerobic wastewater treatment.
"The latest Rotary Drum Screen has a low investment cost, as well as low operational and maintenance costs. Our wide range of in-house experience means we offer custom-designed machines if needed," Mr Bambridge said.
Advantages of the screen, enhancing durability, hygiene and serviceability, include:
non-lubricated chains and non-metallic drive sprockets
upgraded running wheel design
no mechanical parts in contact with screened solids
corrosion resistant
designed to handle high fat and grease loadings
self-cleaning
optional wedgewire slots or perforated holes screening
Mr Bambridge will also highlight one of CST Wastewater Solution's major projects this year, the installation of the world's first GWE COHRAL™ (Covered High Rate Anaerobic Lagoon) using Global Water Engineering (GWE) technology, represented by CST in Australia and New Zealand. (Separate story also attached).
The COHRAL™ at Nippon Meat Packers Oakey Abattoir on Queensland's Darling Downs will extract green energy biogas from its waste water streams to replace millions of dollars' worth of natural gas currently consumed at the abattoir.
At the launch of the Oakey Abattoir COHRAL™ earlier this year, Federal Industry Minister Ian Macfarlane said "Other meat works will follow them. The economic payback period is quite short, so not only will they make the investment, and do things that are good for the environment, but they'll actually get their money back quite quickly."
Australian Federal Industry Minister Ian Macfarlane, right, performs the launch ceremony, congratulating the General Manager of Nippon Meat Packers' Oakey Abattoir Mr. Pat Gleeson, centre, and the Managing Director of CST Wastewater Solutions, Mr. Michael Bambridge, right, whose company installed the GWE COHRAL™ technology.
Oakey Abattoir's General Manager, Mr. Pat Gleeson said "We're very excited to get this project up and running. It's a very innovative project; we've got an innovative team here at Oakey and this is just another step forward, ensuring that we're here in the future. We look to reduce our gas usage by 42-50% – so it's massive. And natural gas costs are only going one way."
Mr Bambridge says CST Wastewater Technologies' innovative technologies and pioneering projects are particularly applicable to food processing and agribusiness, "so we're looking forward to showing these capabilities at FoodPro. We're particularly enthusiastic to show companies how much environmental and profit benefit they can achieve by investing in waste-to-energy solutions that permanently reduce the expense of fossil fuels while radically improving environmental impacts on air and water quality. Having an expert like Craig to assist us will be a great benefit for those attending who are seeking quality advice on issues facing food and agribusiness producers throughout Australasia."