Grit Washing
Description and Working Principles
The unit can perform both grit classifying and grit washing.
The mixture water, grit and organic enters by a vortex type inlet imposing to the particles a rotating velocity. While entering the settling tank that velocity must deflect.
Due to the volume of the tank the velocity is reducing: the combination of the velocity reduction and deflection allows the sedimentation of the grit while the lighter particles will float.
The settled grit forms a "grit-bed" on the bottom which is washed from a countercurrent flow of water.
The washed grit reaches the feeding pit of the lifting screw conveyor while the organics go out with the water or through a suitable flange.
A low speed rotating shaft with proper arms improve the separation of organic from the grit.
While is lifted up the grit is dewatered before reaches the outlet.
In case of high organic load, air can be injected in the sedimentation tank.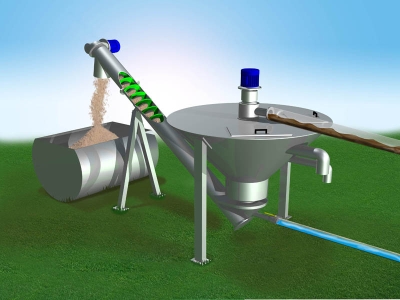 Performance and Technical Features
RANGE AND PERFORMANCE 
Throughput up to 100 m3/h 

Efficiency: 90 % separation of sand with grain size as small as 200 micron (at nominal flow) 

Organic in the Grit: <= 3%.
DESIGN FEATURES 
Hopper: Made from stainless steel and designed: to improve the grit settling and to avoid material blockages 

Shaftless screw made of high tensile carbon steel or stainless steel 

Lifting screw tube: Made from stainless steel, lined inside with stainless steel bars. The design of the unit allows for easy liner replacement
ACCESSORIES 
Discharge chute 

Bagging unit at the grit discharge 

The unit can be manufactured from stainless steel on request

Air blower

APPLICATIONS 
Municipal waste water treatment plants for separation, washing and de-watering grit coming from the grit removal processes 

Industrial plants in which sand or grit has to be separated, washed and de-watered
Advantages and Innovative Features 
One only unit to classify and wash the grit 

Washed grit can be landfill or recycled 

Shaftless spiral 

Absence of bearings 

Low speed 

Low installation cost