Cadia Valley Operations set a truly gold standard of environmental care with FAST wastewater treatment for purification and recycling.
Australia's largest gold producer, Newcrest, has introduced a high efficiency and low-maintenance waste water treatment system at its flagship Cadia Valley Operations (CVO) to purify human and other waste water and enable it to be recycled on-site.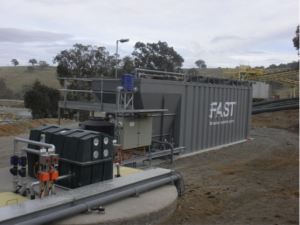 The FAST® (Fixed Activated Sludge Treatment) was completely supplied and installed by CST Wastewater Solutions at the CVO site in NSW where the NSW Government has approved $A 2 billion plans that will extend the lifespan of Cadia Valley Operations for at least 20 years.
The treatment system, representing the latest generation of Smith & Loveless FAST technology, is part of CVO's ongoing program to maximize community benefits flowing from a project that will include Australia's largest underground mine and the world's fourth largest gold mine.
"This is a proven environmental initiative by Cadia that demonstrates its concern to optimize conservation of water as a resourced shared with the broader community," said CST Waste Water Solutions Managing Director Michael Bambridge.
"Cadia is taking a lead as mining companies throughout Australia face the same challenge of optimizing water resources as they expand their operations and job opportunities to the benefit of surrounding communities."
The FAST system is applicable to many unsewered situations including mine and resource developments – where it has been proven for 20 years – as well as construction sites, wineries, hotels and resorts, schools, shopping centers, caravan parks, sports and leisure centers, and boat marinas.
The easily transportable FAST system, which can be built into shipping containers, is designed to handle 40-120 cubic metres a day of sewage and other effluent from the mine. It will produce an effluent quality of:
BOD < 20 mg/l
SS < 30 mg/l
Faecal Coliforms < 1000 cfv/100 ml to meet NWQMS guidelines for secondary effluent plus pathogen reduction.
The plant replaced an earlier different system that was not achieving optimum performance.
"A big plus of Smith and Loveless FAST systems is that they are very robust and reliable in service, having been supplied to the resources industry for more than 30 years," said Mr Bambridge. "They are simple to operate and require no daily operator maintenance, so annual maintenance costs are low.
"Treated effluent waste water from the resource plants can be mixed with mine and runoff water and sprayed on the mine's haul roads for dust suppression, for example."
FAST system features and benefits include:
modular design & construction
low sludge production
no moving parts, except for an air blower that provides oxygen while circulating the liquid
require little maintenance, with no daily operator requirements and very little annual plant maintenance
are robust, in terms of the process. The fixed media through which the wastewater circulates provides a high surface area to volume ratio, protecting against hydraulic shock loads.
The Smith & Loveless FAST process is now proven in hundreds of Australasian installations, providing a simple, efficient biological system that offers safety and flexibility for the operator.
Technical Process
Unlike conventional suspended growth systems, bacteria grow rapidly on the media while the liquid that evenly circulates through the media is essentially clear, with low solids levels.
As the bacteria grow and increase in thickness, the film strength of the bacterial growth weakens and a sloughing of surface solids occurs. The microbes' anaerobic action results in continuing reduction in cell mass and a reduced biological sludge accumulation to be removed from the bottom of the clarifier. This lessens the required area for tankage and associated equipment.
Typically, an extended aeration plant has a mixed liquor suspended solids level (MLSS) of 3000-4000 milligrams per litre. At this level the clarifier is being operated at close to the maximum solids flux (sludge accumulation).
With the FAST treatment system, on the other hand, the bacteria grow on the submerged media, and the mixed liquor circulating through the bacteria-laden media is essentially clear and free of suspended solids.
This reduces the MLSS flow to the clarifier to approximately 100-400 mg/L and greatly reduces the amount of solids flux, which means less stress on the clarifier.
History and Applications
The history of FAST goes back to the early 1970s, when the US Coast Guard had a problem with ships cruising in coastal waters and dumping wastewater overboard, causing excessive pollution.
Wastewater specialists Smith & Loveless were called in by the Coast Guard to come up with an on-board solution for these ships.
The product had to be fairly small in size, had to have low maintenance requirements since the ships' mechanics would be looking after the system, and had to effectively treat wastewater with varying hydraulic flows.
After much research and testing, the marine form of FAST was born. It utilised a fixed-film media combined with activated sludge treatment technology so that bacteria clinging to the media would digest wastewater, producing a remarkably clear effluent that was a major improvement over the raw wastewater that had previously been going overboard.
The system worked so well that Smith & Loveless engineers saw possibilities for many additional uses of the technology, producing an entire family of FAST products.
These include Mobile FAST, sometimes called Container FAST, which fits inside a standard shipping container for transport via truck, rail or ship to remote locations. A popular application is at resorts, where the system can be moved during the year depending on where the most people are in summer or winter months.
FAST systems arrive at the job site as complete, factory-built units or as large components for easy field assembly. FAST can also be retrofitted into existing aeration tankage to boost capacity or performance without expanding the plant.
CST Wastewater Solutions' customers to use the Smith & Loveless FAST system include Alcoa, Bechtel Pacific, Hooker Chemicals, CSIRO, Hunter District Water, BHP Wakefield Colliery, Kiama Municipal Council, Central Coast Grammar School, Blue Circle Southern Cement, Electrolytic Zinc, Lakeside Leisure Park, Blair Athol Coal, Dampier Salt and Berowra Waters Marina.