CST Wastewater Solutions has worked in partnership with Australian tannery Adelaide Processors to design and commission a new waste water treatment process that decreases chemical use and reduces total suspended solids (TSS) in its discharge to less than 250mg/L.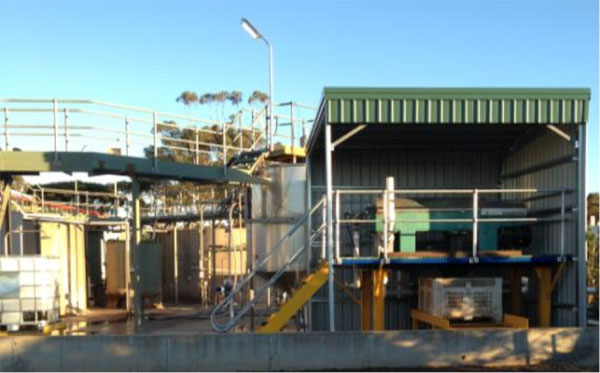 CST's wastewater treatment plant at Adelaide Processors
Adelaide Processors – which processes Kangaroo hides for leather in Elizabeth, South Australia – has enhanced productivity through the new automated system while achieving solids loading in its wastewater streams to the low TSS levels required by SA water for discharge to sewers.
The retrofitted plant used to achieve the new environmental outcomes replaced a previous process that utilised two clarifiers requiring frequent operator attention.
Engineers from CST Wastewater Solutions – an Australian company with more than 25 years' experience in wastewater treatment – conducted testwork and found the best method to obtain consistent wastewater that would meet the target discharge limits would be to use enhanced sedimentation, using a centrifuge.
"The CST team were really open-minded and innovative in their thinking. We had to reallocate the centrifuge, which required an even lower level of TSS," says Mr Greg Osborne, National Operations Manager at Adelaide Processors. "To their credit, CST persevered with these challenges and it was operational within a month or so," Mr Osborne said.
CST designed a new process that utilised new agitator tanks, extra instrumentation and a complete new Motor Control Centres (MCC) and Programmable Logic Control (PLC) control system for automated management.
CST and Adelaide Processors completed the project as an alliance, with CST looking after the process design, supervision of installation, construction and supply of MCC, functional specification and installation of the control system and commissioning.
"The project was very successful," says Dr Tony Farrugia, Principal Process Engineer at CST Wastewater Solutions. "Wastewater discharge is consistently less than 250mg/L TSS and chemical usage has decreased from the old system, with consequent savings," he explains.
"We're very happy with the automation and the degree of productivity increase that has allowed us to experience," said Mr Osborne. "It freed up lots of time for our General Manager as manual processors were replaced by automated technology. This also lowered our operational costs, which was a big bonus," he said.