Grit and Sand Classifier
Grit Classifier SC
Description and Working Principle
The SC Grit Classifier is a stand alone unit designed to remove small particulate solids, grit, sand and fines from waste water elevating and de-watering the solids prior to disposal. It is fed either by an air lift pump, pump or pump and cyclone washer/concentrator.
Grit laden water is fed via the flanged inlet of the integral decanting hopper where the solids are allowed to settle out. Special baffle plates and inlet/outlet arrangements can be used to remove any remaining floating matter. The settled solids are removed from the hopper by a low speed conveying screw. Once elevated above the unit's water level, the solids are further de-watered and transferred to a convenient discharge height.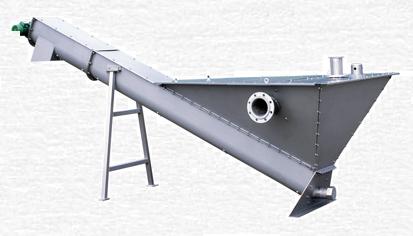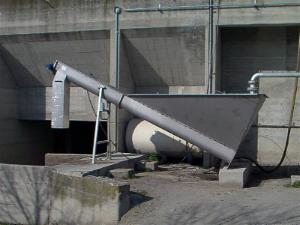 Performance and Technical Features
PERFORMANCE
Liquid throughput
Solids output: 0.08 dm³/s
Efficiency: 90 % separation of sand with grain size as small as 200 micron
APPLICATIONS
– Municipal waste water treatment plants for separation and de-watering grit coming from the sedimentation basin
– Industrial plants in which sand or grit has to be de-watered
WORKING PRINCIPLE
Water to be conditioned passes through the charging inlet P and is let into the decantation hopper, where the sedimentation of solid particles takes place. The low speed of screw rotation allows Sedimentation and discharge at C of dewatered material. Treated water comes out of the discharge spout Q.
CONSTRUCTION DETAILS
Hopper: Made from stainless steel and designed to avoid material blockages.
Flight: Made from heavy duty sections of wear resistant carbon steel.
Trough: Made from stainless steel, lined inside with low friction, wear resistant material. The design of the liner allows for easy replacement.
OPTIONAL EXTRAS
Baffle box

Discharge chute

Additional material removal screw at discharge level

Variable speed drive

Steel support structure

The unit can be manufactured from stainless steel on request
Advantages and Innovative Features
Shaftless spiral 

Absence of bearings 

Low speed 

Low installation cost