Berson Inline UV
UV Disinfection Systems For Wastewater
First Closed Vessel UV System To Gain NWRI Validation For Wastewater Reuse
Closed vessel UV disinfection systems from Berson UV are the first in the world to be validated for wastewater reuse by NWRI* in the USA. The medium pressure systems have also been approved for wastewater reuse by the California Department of Health Services. The validation testing was undertaken by Carollo Engineers, who are recognised as leaders in validating and designing UV disinfection systems in the USA.
Wastewater reuse has been practised in the USA in various forms for decades and the country has led the way in reuse research during that time. Reuse is a major issue in the USA, where large areas of the Western and Southern states experience chronic water shortages. The problem is becoming more acute with population growth, with many of the most arid states, such as Nevada and Arizona, experiencing rapid increases in their urban populations in the 1990s. Large-scale reuse projects are now also being considered in other water-poor regions of the world such as Australia and Southern Europe.
The most common method of wastewater disinfection for reuse has long been chlorination. Despite chlorine's impressive track record, concerns regarding disinfection by-products (DBPs) and, more recently, disinfection performance with respect to pathogen inactivation, are driving the conversion from chlorine disinfection to other disinfection methods such as UV, which does not produce any DBPs
Closed vessel UV systems are normally easy to install within existing pipework, so there is minimal disruption to plant operation. Day to day operation is simple and maintenance is minimal. The only regular requirement is changing the UV lamps and wiper rings once a year, a straightforward operation that can be carried out by on-site personnel.
Potential applications for wastewater reuse are extremely wide-ranging and include any instance where water is needed for non-potable use. The most popular and widespread use is for agricultural irrigation, with California and Florida leading the way in the USA. Other irrigation uses include landscape and recreational applications such as golf courses, parks, and lawns.
Reclaimed wastewater is also used for groundwater recharge applications such as aquifer storage and recovery or preventing saltwater intrusion in coastal aquifers. Other uses include toilet and urinal flushing, fire fighting, foundation stabilisation in the construction industry and artificial snow generation. In all these applications, reuse wastewater relieves the burden on existing municipal potable supplies.
"We are extremely pleased to have achieved this important first, working closely with Aquionics Inc in the USA," commented Berson's managing director Sjors van Gaalen. "Our method uses monitor cameras to actually measure how the UV systems are performing. This permits much greater control, and saves energy, when compared to the existing methods of applying crude safety factors to systems that use high numbers of lamps or are unwiped."
Based in the Netherlands, Berson UV-techniek is a world leader in UV technology for a wide range of applications, including process, waste, drinking and swimming pool water treatment, dechlorination, ozone removal and TOC reduction. The company has over 30 years' experience in the design, development, manufacture and distribution of UV systems worldwide. For more information please visit the company's website at www.bersonuv.com.
* National Water Research Institute (www.nwri-usa.org)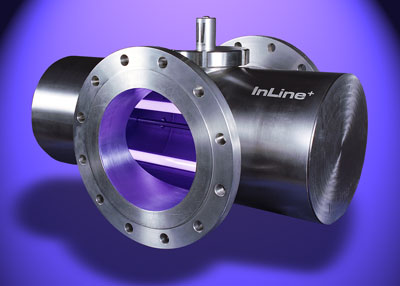 Australian Case Study:  Goulburn NSW – Mulwaree Council
Goulburn's timely water initiative presents a model for the future as cities learn to live with drought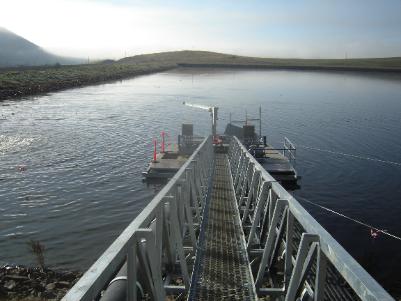 When much of NSW faced drought conditions for more than five years, the inland city of Goulburn became a symbol of the hardships faced by the State as a whole.
The situation in Australia's first inland city attracted national attention as drinking water dam levels plunged, ratepayers halved their water consumption, level five water restrictions were introduced, and the Goulburn Mulwaree Council prepared contingency plans to truck in drinking water if things didn't get better.
Fortunately, things did get better over the last year, but the council has continued with water conservation and water quality initiatives that will stand it in good stead for the future – and perhaps serve as a model for other centres increasingly facing similar issues in the face of global warming.
One of Goulburn Mulwaree Council's successful initiatives involves the selection of medium pressure ultraviolet (UV) disinfection for its effluent irrigation scheme, which has conserved potable water, achieved high water discharge quality and resulted in savings of several hundred thousand dollars in civil works associated with the scheme.
The project's main contractors, Ted Wilson & Sons, submitted an innovative design for a pressured on-demand irrigation scheme, simplifying the infrastructure and providing the council with a more economical project – as well as reducing the long term operating cost.
CST Wastewater Solutions was awarded the UV disinfection equipment supply contract. The company chose Berson InLine medium pressure lamp technology that is now fully integrated into the council's PLC/SCADA process control system.
Berson UV-techniek is the world leader in medium pressure UV technology and was the first to develop the cross flow in-line system now employed in the Goulburn Mulwaree effluent irrigation scheme.
"The germicidal properties of ultraviolet (UV) light are now well understood. and have become widely accepted as a method of wastewater disinfection. Medium pressure UV technology is relatively new in Australia but is rapidly gaining recognition for its advantages" said Pieter Groenewegen, Business Manager of CST Wastewater Solutions.
"Many wastewater treatment plants worldwide are now using UV technology, with an increasing emphasis on reuse applications."
According to Greg Finlayson, manager water services, Goulburn Mulwaree Council: "We were already using effluent for irrigation but the UV treated effluent gave the council more opportunities for reuse – as well as improving the quality of water that eventually finds its way into the Wollondilly River, which is part of the Sydney Water catchment."
"The UV disinfection system is achieving a good microbial kill rate and the overall performance of the completed scheme is excellent," said Marina Hollands, water and waste engineer, Goulburn Mulwaree Council.
There are two main types of UV mercury lamps for disinfection. Low pressure monochromatic lamps that have a single wavelength spike of 254 nm, while medium pressure UV is polychromatic with a variety of wavelength spikes. Both disinfect, but the medium pressure technology is considered to be superior as it prevents photo-reactivation.
The Goulburn Mulwaree construction contract, completed in 2007, was originally based on a NSW Department of Commerce design that called for pumping from the storage pond through an in-channel low pressure UV disinfection system to a secondary 200 cubic meter storage tank, followed by an on-demand pumped irrigation system
The alternative Ted Wilson design took an innovative approach, selecting high efficiency submersible pumps, eliminating a new pump wet well, plus eliminating the secondary tank and pumping directly to the irrigation scheme from the storage pond through the Berson UV system as an on-demand irrigation system.
The advantages of this system were:
• Lower capital cost. The single pump station resulted in simpler infrastructure.
• Much simplified construction. The storage pond embankment would have required significant reconstruction to fit the new pump wet well and the concrete channel for the UV disinfection. The new design used a floating pontoon for the submersed pumps. The medium pressure UV system is in-pipe and has a very compact foot print.
• Lower operating cost. A single pump station uses considerably less operating power and maintenance is simplified. The medium pressure UV system has fewer lamps and is easier to maintain. Everything is accessible above ground with no need for lifting gear.
The scheme's four-chamber UV disinfection system consists of two parallel trains of two chambers in series. Each chamber contains 12 Berson 3.5 kW medium pressure multi-wave lamps, making a total of 48 lamps. The system is designed to operate with either one twin train or both together, disinfecting flows of 100-400 litres per second.
A low-flow jacking pump system maintains the irrigation system pressure when there is no demand.
Pieter Groenewegen said: "The innovative design and the choice of a medium pressure UV disinfection system was a little controversial but the Client was able to understand the advantages.
"The Australian water and wastewater industry has been dominated by low pressure in-channel UV systems, but increasingly designers and end-users are starting to appreciate the benefits of closed reactor medium pressure systems.
"In this case using the Berson InLine medium pressure system allowed us to simplify the system and installation. The InLine medium pressure UV was a little more expensive to purchase, but the big cost savings were in the simplified civil works and lower operating costs – several hundred thousand dollars worth in fact," he said.